10-MILER (IN-PERSON)
Saturday, December 9, 2023 @ 7:30 a.m.
Cape Canaveral Space Force Station, FL
Participants can choose to run or walk their 10 mile race solo or with their own Space Crew. Space Crew teams are made up of 6 crew members that each run 10 miles to collectively reach the edge of outer space together (outer space is roughly 60 miles away)! More info can be found here.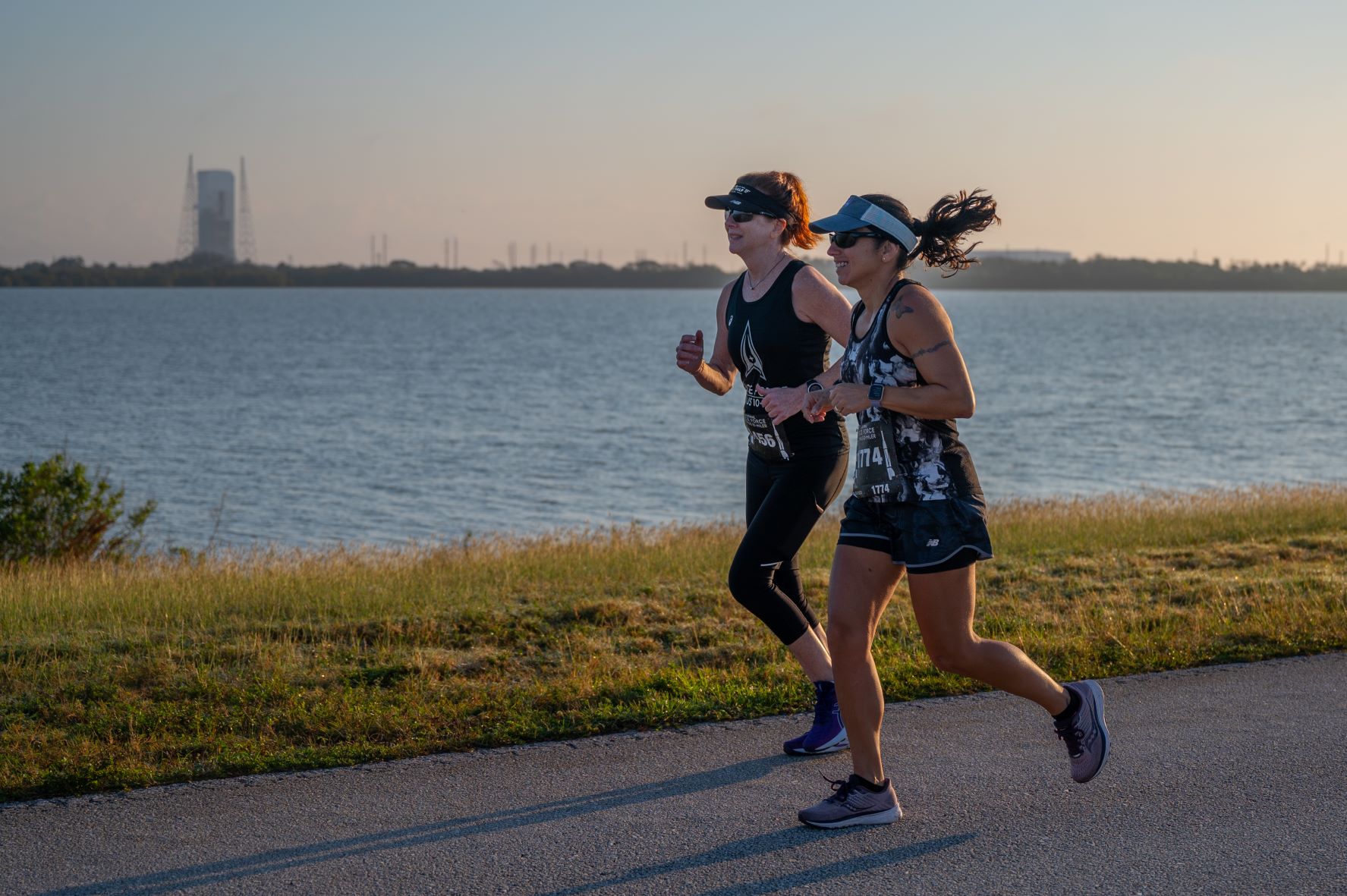 2023 Course Map & Description:
The 10 mile course at Cape Canaveral Space Force Station is built for speed, just like a rocket! Beginning near Whites Point, the course veers left where you meander over the first of two causeways. Take in the sights, and you will be overwhelmed with the beauty you are seeing. Once you have crossed the causeway, you are now on a manmade portion of the course! You will stay on this for a small period of time, but you will then proceed onto the second and final causeway of the course.

After crossing the second causeway, the real fun begins! You will turn right onto Cape Road, but will shortly thereafter turn left to go toward PATROL Road. Once on PATROL Road, you will turn right to start your journey through history at Cape Canaveral Space Force Station. The first piece of history you encounter is Launch Complex 34 (LC-34), which is the location of the Apollo 1 Memorial. LC-34 also served as the launch site for Apollo 7 to put Americans back into space. After passing LC-34, you will continue on Freedom Road, but you will make a left onto ICBM Road, where you get to continue past important space history!


ICBM Road features numerous launch pads including Launch Complex 19 (LC-19) and Launch Complex 14 (LC-14). The second launch complex you pass is LC-19, which is the home of 27 major launches, including 10 manned Titan II/Gemini missions. Additionally, after passing two more launch complexes, you will continue to, and around, the control center of LC-14. This launch complex served as the launch point for four manned Mercury flights, including John Glenn's Friendship 7 flight where Glenn became the first American to orbit the Earth. After passing through LC-14 you will continue by the famous Mercury Monument, and back onto ICBM Road. You will continue on ICBM Road and then will turn left onto Central Control Road where you will rocket toward the finish line right past Cape Canaveral's lighthouse on Lighthouse Road.

Participant Amenities:
All registered participants will receive an official race shirt, access to the virtual goodie bag, and an optional complimentary commemorative patch.
All 10-miler finishers will receive a finisher's medal and finish line refreshments. Finisher certificates will be available to download after the race.
Rules & Regulations:
Time Limit – the 10-miler course will be open for 3:20 hours. Participants must maintain at least 20:00 minute/mile pace.
Safety on the Course – no animals, no strollers, no baby joggers, no bicycles, no scooters, no inline skates, and no wheeled vehicles (other than official Bike EMS and Patrol Teams) will be allowed on course.
Bib Pick-Up:
Bib pick-up will be located at Packet Pick-Up. There will be no bib pick-up on Saturday, December 9, 2022 unless you pre-paid for race day packet pick-up.
What You Need:
You must present a valid photo ID and know your bib number in order to pick up your bib. Bib numbers will be issued in late November.
If you are unable to attend the packet pick-up yourself, you must make arrangements for a representative to pick up your bib for you. You must fill out and sign the Bib Pick-Up Authorization Form, and your representative must present the completed form, a copy of your valid photo ID, and their own valid photo ID. Representatives who do not have these three things will not be able to pick up your bib, no exceptions.
Awards:
Awards will be presented to the top three male and top three female finishers in the following categories; Overall and Military.
Additionally, awards will be mailed to the top three finishers in each age group at a later date. See the awards page for more details.
---
Related Pages: